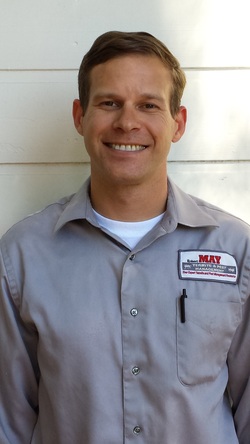 Robert May Termite & Pest Management
"Your Expert Termite and Pest Management Resource"
Robert May is the owner and operator, and has been a mountain resident for over 30 years. He began his career with a local pest control company, and worked his way up to managing a crew of technicians. In 2005, he started his own pest management company. With 16 years experience in the industry, he is an expert in his field of pest control, and specializes in wildlife and rodent solutions.
The company has grown over the last 10 years with the help of our valued customers. Robert May Termite and Pest Management will continue to provide the best service and solutions possible, because customer service is our priority.
"We attempt to address the root cause of any issue to truly solve it and provide LONG TERM results, rather than just treating the symptoms."

Here at Robert May Termite & Pest Management, our #1 priority is our customers. We constantly strive to provide you with the best possible service.
Click Here
if you need help controlling the pests in your area!
*FREE Pest Control Estimates!
---
"I have been a customer of Robert May Termite & Pest Management since its beginning. I've been very impressed with the thoroughness of his work. He has a vast knowledge of the pesticides he uses and knows the best methods for treating each problem. His technicians know their pesticides and can answer any question about their toxicity, etc. Scheduling is easy and they are flexible! Yes, indeed, I would recommend this company to others! They respect and listen to each customer!"

-Vivien Lloyd